Kitchen Planning & Renovation review in Toronto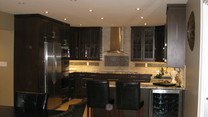 TS KITCHEN PROJECTS
416-898-1142
154 Wildwood Crescent
Toronto
ON
M4L 2K7
CANADA
Ikea gave me another company's name to do my kitchen install, after getting in touch with them and realizing that they were not willing to accommodate my working hours or timeline I decided to look at other companies.
My kitchen renovation was my first foray into Reno projects and I have heard many nightmare stories out there. Thankfully Traian made everything as smooth as possible.
I went with Traian after reading the positive reviews from other people in the same situation as me. He was quick to answer any of my questions, honest and fair.
My kitchen looks amazing and all the little things I was worried about (like my cat being ok and not being around during the job) were soon forgotten as I saw how dedicated and efficient his colleagues were.
I highly recommend TS Kitchens and Traian.
Cristina Faucher
Toronto, ontario