Kitchen & Bathroom - Cabinets & Design review in WHITBY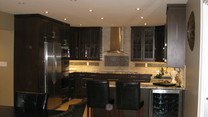 TS KITCHEN PROJECTS
416-898-1142
154 Wildwood Crescent
Toronto
ON
M4L 2K7
CANADA
We hired Traian to design and install a new kitchen layout for our home, as the final stage in an entire main floor renovation project. It is impossible to explain in words how lucky we feel that we were able to find someone like Traian (and his team). His vast experience with the Ikea products, craftsmanship in the customization of the Ikea cabinetry (to fit our particular layout), and his tireless work ethic are only a few of the traits which make Traian stand out in the crowd of kitchen specialists.
We had thought during the early stages of our renovation planning that we would design and install an Ikea kitchen ourselves. As most people who have spent more than about 2 minutes with the Ikea kitchen planning software, or anyone who has attempted to get a satisfying answer out of an Ikea Kitchen department "specialist", we were frustrated and annoyed. We learned very quickly that our particular kitchen dimensions would not accommodate the specific cabinet sizes available from Ikea.
Thankfully we found Traian here on HomeStars and hired him to do the design and installation. This was easily the best decision we made during our renovation project.
Traian worked with an attention to detail the likes of which we have never witnessed before in our lives. From the initial design consulting, to the assembly, customization, and installation of our entire kitchen, we were totally at ease given Traian's obvious mastery of his craft.
If you are looking for a craftsman who shows an absolute pride in his work, look no further. Traian - we cannot thank you enough for going above and beyond during our kitchen project. We are truly grateful for all your fantastic work.
Company Response

Thank you for your kind words. It was a real pleasure dealing with you and I appreciate your patience during the process.I hope you will enjoy your kitchen for years to come.Thank you for your business, Traian