Kitchen & Bathroom - Cabinets & Design review in Mississauga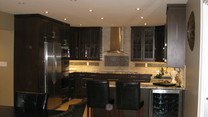 TS KITCHEN PROJECTS
416-898-1142
154 Wildwood Crescent
Toronto
ON
M4L 2K7
CANADA
I had decided to do a complete renovation of my townhouse kitchen with Ikea cabinetry and looked for a person who could do the installation. After looking throug the reviews on Homestars I contacted Traian since he seemed perfect for the job. After meeting and talking with him I was even more convinced that he was the right person.
He had a lot of experience with assembling Ikea kitchens and made several recommendations to my layout and design that I had not considered. That Ikea kitchen planning softwre leaves a lot of stuff out and the measurements it states are not as precide as you might be led to believe. Not only did Traian make good suggestions at the beginning of the project he contined to do so as the project continued and different issues arose that he handled. These would be things like the walls not quite being even all the way across or working around existing floor tiles I had in my kitchen. He even managed to make sure of some what I thought was going to be wasted space to get me another drawer.
He also went beyond what I expected in recommending tradespeople to me. I had mistimed when I would have to have the kitchen ready for him to do the installation. I had to have the wall tiles taken down when I originally hadn't planned on that. Then that required a drywaller to come in. I needed a plumber to cap the water lines. I hadn't realized having a new wall oven would require running another line from the box in the basement.. Lots of mistakes on my part but Traian took it in stride and got me the contacts of good people to do the different jobs, in one case at half the cost of someone else I was trying to contact.
With renovation work you want someone who is not only knowledgable about the work but who is also responsive. Unforseen things always acome up or there are questions that need a quick answer. Traian was always easy to contact and would check with me to let me know how things were progressing or to get my feedback on something.
I have no reservations about recommending Traian for a kitchen installation project. If you plan to do any renovations iwth Ikea products give him a call and see what he has to offer. I don't think you'll be disappointed.
Company Response

Thank you for your business, patience and referrals. Enjoy your new kitchen !