Kitchen & Bathroom - Cabinets & Design review in TORONTO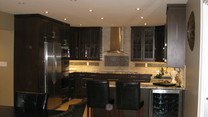 TS KITCHEN PROJECTS
416-898-1142
154 Wildwood Crescent
Toronto
ON
M4L 2K7
CANADA
After having my kitchen incorrectly designed by Ikea and about 30 tries just to obtain a quote from the Ikea's preferred vendor, I found Trian. With 88 boxes of Ikea kitchen already stacked up in my condo, Trian made himself available to be at my home to make an assessment within 24 hours. His expertise was immediately evident as he quickly identified several design flaws and made recommendation on how to both redress the errors and improve the overall functionality of the space. The installation took precisely the amount of time he had quoted and he went above and beyond making unplanned trips to Ikea to exchange unneeded products resulting from Ikea errors. The quality of the finished product exceeded my expectations. As a former bonsai artist, his attention to detail is unparalleled. Every seem and angle is flawless. As a bonus, he is consistently punctual and thoroughly cleans up any mess that may have been created.
Since my kitchen install, I have hired Trian twice to do further work and would definitely do so again.
Company Response

I am very happy my craftmanship met your expectation. I know I was not always there for you when you needed me. I hope my busy schedule was not a huge turn off and I can only promise that I will try to do better in the future. Thank you for your trust and the repeat business. T.