Kitchen & Bathroom - Cabinets & Design review in Toronto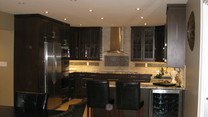 TS KITCHEN PROJECTS
416-898-1142
154 Wildwood Crescent
Toronto
ON
M4L 2K7
CANADA
To whom ever reads this review, both my wife and I cannot stress enough: Traian will exceed your expectations. Our house is old – over 100 years old. As a result, the kitchen, well, it has "character". The floors are not level, sometimes differing by 2-3 inches. The walls are not only uneven, but they are inconsistently uneven. This presents a real problem when trying to install cabinets (if you want them straight!). I think what I was most impressed with was that everything was made level, but asthetic appeal was not sacrificed. What I mean by this is that if you only focus on making sure everything is level and not the larger picture, it can create such a contrast that everything looks weird. Traian was able to complete the technical work of installing the cabinets, while having the vision to tweak things to not accentuate the flaws of the kitchen's overall structure. Basically, it was a custom design and installation.
Traian gave us a very functional design, and listened to us when we explained what we wanted. He also explained why he chose the pieces he did, and how it would optimize our small space and make the kitchen more user-friendly.
We had heard horror stories about renovations taking longer than planned and were slightly worried. Traian scheduled 5 days to complete our work, but it was actually done in 3. There was very little mess and everything was clean and tidy once done. A few things needed to be done post-installation: a custom cutout was made for our sink (inches were lost due to wall/floor unevenness), a custom panel was made to cover the side of the fridge, doors were custom cut to accommodate our larger than normal sink, and a heating vent was reconfigured so that it would not be under the cabinet.
As usual with Ikea, a bunch of things were missing. Traian made a list of what we needed. Excess things were left so that we could return them. We needed some emergency electrical work done – Traian had a source.
The most difficult thing about writing this review was trying not to rambling on about how positive an experience this was. Bottom line was that this was the best investment in our kitchen we could have made.
Company Response

I am happy that we could rehabilitate a little bit the looks of your kitchen. Thank you for your business.