Kitchen & Bathroom - Cabinets & Design review in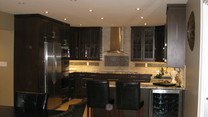 TS KITCHEN PROJECTS
416-898-1142
154 Wildwood Crescent
Toronto
ON
M4L 2K7
CANADA
This is the second time I've used TS Kitchen Projects. I was so happy with Traian's work at my past home that I called him back when we moved into a new house.
Traian is punctual, very detail oriented and offers up great suggestions that enhanced my kitchen(s). There were a few things I wasn't sure about when I ordered my kitchen and he helped me figure it out in a way that made sense and looked great.
One of the difficulties with the job he did for us was that we were using some discontinued lower facings and thought we had everything we needed, but we didn't. Traian went above and beyond to find the missing pieces we needed which we really appreciated. He also had to cut a few of these discontinued pieces down for a custom fit and did an amazing job at making them fit right in.
Great job Traian, I'll be calling you again when I move into my next place ;)
Barb
1 of 1 people found this review helpful.
Company Response

Thank you for your repeat business. Looking forward to finish your laundry area when everything is installed.