Lighting review in OAKVILLE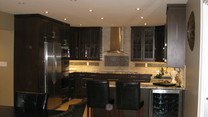 TS KITCHEN PROJECTS
416-898-1142
154 Wildwood Crescent
Toronto
ON
M4L 2K7
CANADA
Traian exceeded our expectations consistently for all aspects of this kitchen project. His attention to detail, professional manner and willingness to help us through the decision process was outstanding in every way.
We had rough plan and Traian was able to replicate and ensure our order was processed efficiently at Ikea and even helped us select the specific types of hinges, lazy susan's and drawer sets. He further helped us select LED lighting for in-cabinet and under counter which are amazing!
We have done a custom kitchen before and love this one just as much and maybe more because we knew how carefully it was put together and it cost about 1/8 th!
We are very happy with TS Kitchens and would recommend Traian as the best contractor we have worked with. We are most willing to provide a verbal reference and answer any questions. You will never be sorry you called Traian!
Company Response

I had a blast building your kitchen. Thank you for your hospitality.I had the best time up there. Thank you for your business. It was a real plaesure knowing you.