Heating & Air Conditioning review in Aurora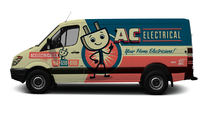 AC Electrical Contractors Ltd.
416-698-8100
251 Raleigh Avenue
Toronto
ON
M1K 1A5
CANADA
Fix electrical circuit to furnace
Another contractor was in fixing the furnace when the electrical circuit switch blew up on activation.
Unfortunately this left me with out a furnace and sub 10°C weather. I called several other electrical contractors and electricians but nobody answered their phone.
When I called these people they answer the phone and were polite and friendly and promised to get somebody at my location within a few hours.
They came through as promised. The electrician, Stephen was thoroughly professional. He quickly sized up the issue, and even though this is an older house he was able to resolve it very quickly and get my furnace back up and running. In addition he provided lots of helpful electrical safety and home safety tips.
I am very grateful for the service and yes my furnace works now.
Thank you very much.
Company Response

Thank you for the wonderful feedback about your experience with our company. We consistently try to stand apart from other electrical contractors by the level and quality of service we offer. It's satisfying to know that our office staff were able to answer your call and schedule the electrician to be there in a matter of hours. We work primarily in the residential electrical field, therefore we understand the urgency of certain situations. Steven is an experienced and knowledgeable electrician, so we're very pleased that he was able to efficiently repair the problem as well as provide you with safety tips/ recommendations. Thanks again for choosing AC Electrical. We look forward to serving you again in the future if the need arises.