Pest & Animal Control review in Durham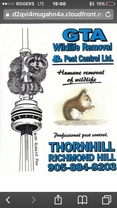 Gta Wildlife Removal And Pest Control
905-884-9203
Serving the GTA
ON
M6P1W4
CANADA
I was very pleased with the owner of 'GTA Wildlife', 'Kevin' who took the time to answer my questions on the phone regarding carpenter ants in my home. I had spoken with Kevin in the past, who had also helped my father at one time, with bugs in his home.
Kevin referred one of his staff members 'Sam' who works out of the region of Durham where I reside, to come to my residence to help with the carpenter ant problem. I was very impressed with Sam! He explained what he would be doing, and reassured me that the spray that he would be using was not hugely toxic, (mostly water, with some insecticide) as the spraying initially was a concern to me.
I initially set out ant traps, and Diatomaceous Earth powder (non-toxic) in the home, and outside the perimeter of the home, yet, this was just not doing the job, as the carpenter ants kept creeping in the house, so I realized that I needed the help of a professional, such as the GTA Wildlife Pest Control experts.
I am pleased to report that after coming back to my property, and seeing that there were in fact dead carpenter ants in the home, as opposed to seeing live ants crawling, was a nice sight to see.
I think that if you have carpenter ants, or bugs of some kind, it is important to get an expert to help you, such as the GTA Wildlife, as the owner 'Kevin' will initially help diagnose the problem, and then send one of his staff members, in this case the terrific 'Sam' to help with my concerns with the ants, was just icing on the cake!
I saw Sam working very hard around my property, and with his pleasant demeanor, and knowledge in this area, really helped with my angst over these ants.
Thank you GTA Wildlife, and thank you Sam!
A job well done!
Lawrence
Company Response

Great customer excellent communication very accommodating making service results even better. We have really good methods and results for treating carpenter ants wildlife and all pests. Thanks for choosing GTA wildlife removal & Pest Control