Pest & Animal Control review in Vaughan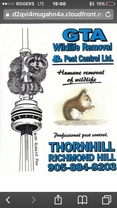 Gta Wildlife Removal And Pest Control
905-884-9203
Serving the GTA
ON
M6P1W4
CANADA
Amazing service and people, very easy to communicate, punctual and very professional.
I am very happy with GTA Wildlife, they did a great job removing carpenter ants.
I highly recommend this company. They know their job and do it right from the first time.
Company Response

Thanks Ana: For taking time to write this review. It is our goal to create a positive experience for customers. Controlling pests is not an exact science customers require companies to be flexible, willing and available to respond to the challenges of our rapidly growing and ever changing city. Thanks from each of us at GTA Wildlife Removal & Pest Control Ltd.