Heating & Air Conditioning review in Aurora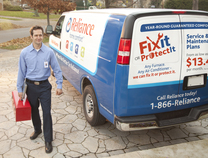 Reliance Home Comfort
8667354262
51 Simcoe Street South
Oshawa
ON
L1H 4G4
CANADA
We purchased carrier AC from reliance about 5.2 years ago, and then furnace, also from reliance. Recently, the AC stopped working , so I called them to see if I was still under warranty. When I called, they had no records of our purchase, and since they had no records, they could not tell me whether I am still covered by warranty or not.
Not only that the technician that was dispatched quoted me ~3K for the estimate to fix (some issues with freon)... When I called back reliance, and I told them I have a proof of purchase (does not contain warranty info), they told me they still cannot check whether I'm under warranty or not since they have no records of my purchase, even though their website says "In most cases, respected AC manufacturers offer 10-year warranties"
I am extremely frustrated with reliance's customer service, this is not how customer should be dealt. Here I am buying both furnace and AC, and they don't even have a record of our purchase. Not only that AC breaking just after 5 years when it should last more than a decade. Bad customer service combined with bad product/installation, I cannot recomend this company to anyone else after my experience.
Company Response

Hello, I am very sorry to hear about the issues with your equipment. If you require any further assistance please email me. jdeboo@reliancecomfort.com Thank you, Jessica