Snow Removal review in Toronto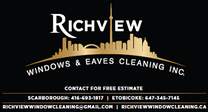 Richview Windows & Eaves Cleaning Inc.
4166931817
39 Richview Rd
Toronto
ON
M9A 4M7
CANADA
The owner is really nice but it seems the business has grown too big and the level of service is poor for snow removal. Late arrival, not enough care for snow removal, poor response time, etc. More of a headache than a help this winter.
1 of 1 people found this review helpful.
Company Response

Hello,

Thank you for the feedback. It's been a challenge for us and the city these past two winter storms we had. We rotate our clients each snow fall to balance out the service and make it fair for everybody. We do not prioritize anybody and on such heavy snow falls mixed snow/ice pellets/ice rain/ it is tough to plow, it takes us longer to come because the properties take longer to clean up. It's not pushing or shovelling snow it is actually digging into it. Each of our drivers have 30 properties to service. We only take on as much as we can handle. Each property up to 15 cm we get done within 10min. Anything above 15cm their is no service time guarantee especially when we get dumped on 25cm within 10 our time. We usually go out twice to service above 15cm but when we have a big snow fall in such a short span of time it's just impossible to go and service twice. We can only do so much, we depend on the city to do their part before we come and it's not been happening because the city itself has a plowing problem and the city is funded millions to do their part. We had to plow residential streets to get to some residential properties. On heavy snow falls everybody wants their property serviced right away and it just impossible. We tried to make the service fair for everybody. We have not had such weather in over a decade. Next year we will provide snow removal packages to meet clients specific needs, because we tried to be fair with everybody which our pricing is based on and it has not worked out this season for neither us or our clients. I would like to thank all of our clients that have been reasonable with us and who were patient for us to come to provide the snow removal service. These two past snow falls we had plow snap which are brand new from pushing all that weight. Equipment and vehicles brake down from all the stress they get.We have backup vehicles as well in such situations. We always come and get the job done.

Sincerely,
Trevor