Gutters & Eavestroughs review in Toronto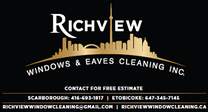 Richview Windows & Eaves Cleaning Inc.
4166931817
39 Richview Rd
Toronto
ON
M9A 4M7
CANADA
These guys were exceptionally great. During a summer storm a few weeks ago, a huge branch fell on my porch causing damage to the roof and eaves. I called around for service and no one could fit me in for over a month. The other problem I was having was that none of the eaves companies I had been in touch with would also repair the roof damage. On one of these calls I was referred to Richview. I connected with Trevor at Richview and he quoted the job the next day and fit me in the following week. I feel pretty lucky to have found these guys. The price was great and from what I understand, the job turned out to be much more complicated and time consuming, but they happily stuck to their original quote saying this is how they run their business. I would definitely recommend.
Company Response

Hello Mike,

Since we had the windstorm we got so busy due to all the damage it brought to homes across the GTA. We were glad that we had an opening to schedule you in. All the fascia wood was rotted which we had replaced, the job did take more time and more materials than we thought. We had given you a price even though it should have been more, but we always stick to our initial quote regardless if the work scope changed. We are glad that your happy with all the service we had provided for you. Now you have a peace of mind there will be no further damage to your home due to water ,as well as, we had closed all the gaps which could have been potential breeding places for squirrels, raccoons and birds. Thank you for taking the time to leave us with a review, much appreciated.

Best Regards,
Trevor