Home Inspection review in Surrey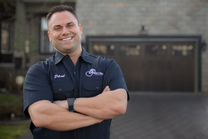 I Find It Inspections
6043603359
6659 187A St
Surrey
BC
V3S 0T1
CANADA
We had finally, after 2 years of searching, found THE house we were hoping to finally call home and called Paul to do what we expected to be a quick and easy, worry free inspection.
The home, originally built in the 1960's, had been updated quite nicely, from what we could tell, over the years with many renovations and additions throughout. We wrote an inspection into our offer thinking it was more of just a formality and for peace of mind than anything else and really didn't expect much to come of it.
The issues and concerns Paul discovered quite quickly into the inspection shattered our dreams, to say the least, of our perfect little home, and his list just continued to grow as the insection went on.
At the end of the day, what Paul did for us was saved us from getting ourselves into a mess of a DIY disaster.
We cannot thank him enough!
We highly recommend and appreciate his expertise, knowledge and professionalism and will use him again when the time comes.
Company Response

Thank you for those kind words guys. I felt horrible when we started seeing all the major issues and indications of very poor workmanship. Very seldom have I ever had to cut an inspection short but I am glad you avoided that DIY disaster!