Gutters & Eavestroughs review in Mississauga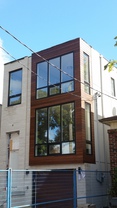 Multi Service Aluminum
647-393-7990
Mississauga
ON
L5E 2X4
CANADA
Manny drove by our renovation, stopped to introduce himself and asked if we needed a supplier for our sofits/eaves/gutters. We are so thankful he stopped!!
Manny and his crew were absolutely amazing. They did a beautiful job on our home. Manny made a number of recommendations that turned out great. His crew were knowledgeable, meticulous, efficient, clean and friendly.
Manny found a small dent in one of the gutters (which we could not even see) and immediately replaced the whole piece.
There is a reason MSA HomeStars ratings are so high and that's because Manny and his team are exceptional.
You will not be disappointed if you hire them!
Company Response

Hi Jennifer,

Thanks SO much for leaving us this awesome review! We are so happy to have had the chance to work on your beautiful home- it's a stunning addition to the neighbourhood! We pride ourselves on ensuring every detail is accounted for and I am so glad you noticed this. Excellent work and reviews like yours are the cornerstone of our business. Thanks again trusting us with your home!