Surrey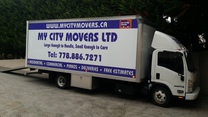 My City Movers
7788867271
6739 176 St
Surrey
BC
V3S 4G6
CANADA
My City Movers moved my furniture from a basement suite to a new condo less than 6km away.
The good points were they turned up on time. They worked very hard. They certainly knew what they were doing and coped with stairs, corners and a difficult corridor.
There were some minor scratches on furniture (nothing major)
The biggest disappointment was the additional charge of 7% for fuel which was unexpected and I missed this on the paperwork originally manually calculating in my head and assumed this was PST.
I don't think a 7% fuel charge is warranted.
1 of 1 people found this review helpful.
Company Response

Thank you for your review.