Waterproofing review in Toronto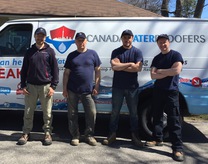 Canada Waterproofers
416-333-5325
1750 The Queensway,suit 153
Toronto
ON
M9C 5H5
CANADA
We contacted Canada waterproofers because we found water under a sub floor in our basement.
No other company was able to diagnose and propose a solution! ( we had 4 waterproofing companies come ) Stewart came within 24 hrs and scheduled us within days!
They subsequently found another problem while installing the sump pump, they gave us and effective and inexpensive solution to and unexpected the issue. Extremely affordable! And amazing work!
We have had Zero water! The work was done impeccably! Stewart and CARL are extremely professional, they propose real solutions and as these things can be costly they are very reasonable!
I would only call them for any waterproofing need! Thank you gentlemen we really appreciate your work!
Company Response

Hi France

We just want to thank you for writing such a positive review of our company.
Thank you for choosing Canada Waterproofers to waterproof your basement, and thank you for being such a great customer.
Please feel free to contact us if you need anything, or you had any concerns.
Best regards
Canada Waterproofers Team