Roofing review in Toronto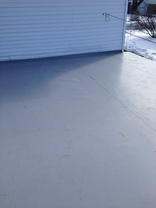 Alexim
6472980197
3595 Birchmeadow Cres
Mississauga
ON
L4Y 3R8
CANADA
I started my research on what to do with our flat roof from late 70s back in fall of 2014.
Alexim's roofing site stood out right away - lots of info on flat roofs themselves, materials they use, pictures, etc. So I gave them a call. And it went real fast from there:
- Alex came over on agreed date and on time and gave me quote on the spot
- Not only he gave me the quote he explained how and when it will be done, how payments will be made - pretty much laid out all the info I needed
- Couple of weeks later truck with the crane came over to put all materials on top
- In several days on agreed date Alex and his crew came over. Friendly, polite, hardworking and considerate. Minor detail but they even parked their personal cars out of everyone's way so there was minimal to none inconvenience to people who live around me.
- Once they were done (in 2 days!!!!) - all they left is brand spanking new roof. They did not leave any garbage, no materials leftovers, not a single screw.
- Of course sky opened up couple of days later. What do I get when I hear first drops - email from Alex asking if everything is OK, what a class act. What I did not get – leaks, no leaks :-)
He also ordered and installed custom skylights and did a great job on those.
As a side benefit – dramatic change in temperature inside the house. We have two big dogs, northern breeds and installed AC just for them. We used to turn it on when temperature would hit mid 20's (Celsius) and above. 2nd (top) floor would get hot real fast. Now with added insulation and modern roof material – very nice and comfortable temperatures, no need for AC on most of the days.
Bottom line - flat roofs are tricky and there is handful of professionals who understand them and can do the job properly. In my books Alex and his company are on top of that list. And beside skills for flat roofs - on time, no surprises, no hassle, very pro. If you need to get your flat roof done - look no further.
0 of 1 people found this review helpful.
Company Response

Thank you very much for your kind words.