Paint & Wallpaper Contractors review in Toronto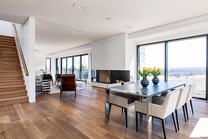 Demiri Painting & Decorating
416-839-2396
1840-35 Viking Lane
Toronto
ON
M9B 0A1
CANADA
I did my homework before receiving 5 estimates from other Homestars companies with good reviews, but no one seemed to be the right fit. I started my search in March and had a highly recommended local painter (not on Homestars) hired for June when out of the blue in June, he said he couldn't paint my house. Disillusioned, I called my local paint store, Decorating Elements on Royal York who recommended, Demiri Painting and Decorating. When I asked for another company name, they would not recommend anyone else. That spoke volumes! From day one upon meeting Val, I felt a connection. He's very informative, honest and highly
dedicated to making his customer happy. We communicated well (very important to me) and I had confidence he was the one to do the job. Val's team, John, Engin and Mike are a dream. They arrived every day on time in good spirits, worked hard and long with attention to detail, always leaving the work site neat and tidy. They removed very old painted wall paper (not the kind that is meant to be painted) on walls and ceiling of 2 bedrooms, lots of plastering and sanding on old cracked uneven lathe and plaster walls, used special conversion paint from oil to latex on all surfaces before painting could even start. The star of their efforts was the complete transformation of all the old dark stained wood trim, doors, fireplace and staircase with a beautiful custom matching dark stain and varathane. (Most companies wanted to paint it all white.) This was not an easy job and I'm not easy to please! I'm in awe!!! The walls are unbelievably smooth and all the wood is so rich and gleams like new. This company went above and beyond my expectations. They moved my furniture out, covered whatever remained and moved it all back. John even removed and replaced all the light fixtures/ceiling fan for safe keeping. (A great chance for me to give them a good cleaning.) Val and John came back several times to take care of those last details, just to make sure I was completely happy. I cannot thank them enough for making this old diamond in the ruff shine!
1 of 1 people found this review helpful.
Company Response

Hi Cynthia, first of all I want to thank you for trusting us with your project as we know you were thinking of doing that for a very long time, that means a lot to us. Myself, and all our crew were so proud of what we achieved at your place, as we all know that wasn't a job that any one can do.

Please feel free to contact myself or John at anytime with any painting related questions you may have in future.

Thanks again for your business, Valon!