Heating & Air Conditioning review in Coquitlam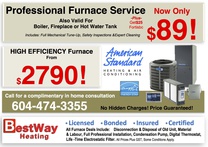 Best Way Heating
604-474-3355
The initial booking on the telephone, in-home estimate, installation, and follow-up inspection all had one thing in common - excellent customer service. Jaffar (the owner) was very thorough in his explanations and courteous to listen to my questions and concerns regarding a new furnace installation. Seyam (the installer) came to work on removing the old furnace and installing the new furnace. The workmanship was very good and he left the house in a clean manner.
After the installation, I had difficulty with the new thermostat. A few days later, I called Jaffar and he arrived within 30 minutes. He diagnosed and fixed the issues and patiently explained everything to me.
He also prepared all of the paperwork for the Fortis Rebate and e-mailed them to me the next day. I highly recommend his company.
Company Response

Hi Angus
Thanks for you time and your nice review.
We would be happy to be at your service again
Jafar