Plumbing review in Pickering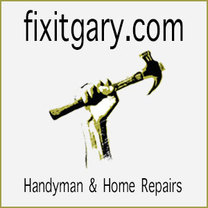 Fixitgary.Com
416-276-4977
Box 64711 Unionville
ON
L3R0M9
CANADA
I don't usually take the time to write reviews, but I will for Gary because he is that good.
Gary is everything that all previous reviewers have said… and more! Punctual, meticulous, courteous, professional, detail-oriented, honest and a problem solver. He also literally carries a mini "Home Depot" with him and seems to have every part and tool available with each service call. And if not, he buys them prior to the job by asking you the right questions or by doing a drop-in for an estimate.
I gave Gary a list of things to fix in my home, all things that were previously installed by someone else and now breaking down over time or due to incorrect installation. I assumed many of these items would be easy jobs, but I soon learned that there were many more underlying issues with each job, ie plumbing headaches, eroding wood countertops, unaligned closet door installation, list goes on and on!! But Gary is a problem solver and resolves every issue, one way or another. If he can't he is honest enough to tell you he can't.
For one job, he helped install door handles onto my Ikea closets by drilling holes into the doors. I was almost certain that he was going to have to vacuum up all the shavings that come from drilling through the wood doors, but Gary taped an envelope to the door directly underneath the handles which caught every single wood shaving. I'm sure not a single piece fell to the floor. Needless to say I was very impressed. This is the level of fore-thought and cleanliness that comes from hiring Gary.
He also readjusted my bill for some additional time for which he couldn't estimate for and he helped me stay within my budget.
I will not be using my other so-called "handymen" any longer, ie my dad. lol
Thanks for all your help Gary.
Esther
Company Response

Esther – Your review requires more than a simple 'Thanks'. There are four rewards for doing this work. The 'money' is something I would make at any job, and is spent before I earn it. The 'personal satisfaction' occurs only while I look at the finished work, and speed on to the next task. I get the 'Customer's satisfaction' while I am there, and through repeat work. The number one reward is a 'great review'. A great review creates new opportunities and customers for me, which in my opinion carries more weight than any of the other three rewards. I am both humbled by your praise…and nervous about future performance expectations :-) Many Thanks.
Gary Pastor | Fixitgary.com | 416-276-4977