Roofing review in Toronto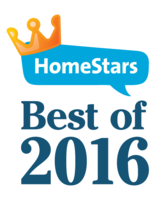 Eclipse Roofing Ltd
1(888) 946-6696
12 Advance Rd
Toronto
ON
M8Z 2T4
CANADA
This may be a long review, but I do want to detail my very fruitful and satisfying dealings with Eclipse Roofing – and hope that this helps anyone looking for a roofing contractor [Spoiler Alert : Definitely contact Eclipse Roofing].
We had the roof of our single family, side-split house re-shingled 14 years ago and those shingles had deteriorated so much that it was obvious that the entire roof would have to be done again. As someone with little knowledge of house repairs I was dreading the prospect of dealing with companies that would tell me what they wanted me to know…so as a retired guy with high speed, unlimited internet I was off to scour the internet to find information and the appropriate questions to ask.
After using the Homestars website and reading reviews, I settled on 5 possible companies that I would ask to come to my house and provide estimates. In preparation of each meeting I had a list of questions to ask and would be making a decision on the information provided to me, the proficiency and professionalism projected by each company, and the ease of dealing with them, and not just the price. On all accounts, Eclipse Roofing shone.
My first contact was with Rachael, the Administrative Specialist, who told me that they would be happy to answer any questions that I had, and asked that I send them the questions beforehand so that the Estimator could review and be ready to answer them – a big check in my books. My wife and I then had a very informative meeting with Eduart, their Estimator and seemingly "Man-in-charge", who answered all of my questions, went up on the roof for an inspection, and had samples of shingles to show us. Eduart then emailed us a detailed quote which also included pictures of the roof and a glossary of roofing components and pictures – all very helpful and appreciated – and above and beyond what the other companies provided.
I subsequently had several emails with Rachael about other questions, and had some modifications to the job and quote – all of which were answered promptly and to my satisfaction. When we made our decision it was a clear choice to select Eclipse Roofing.
The work was scheduled for early November but was delayed a couple of times due to bad weather – totally understandable. It was a full job – including the replacement of the plywood roof deck on both the upper and lower parts of the house, the installation of a Ridge Vent, the installation of baffle vents in the soffit, as well as all new vents, flashing, ice & water shield, drip edge, underlayment, plumbing and exhaust stacks. Eduart sent a double crew (8 fellows) in order to ensure the job was done as quickly as possible. The crew were very professional, knew what they were doing, worked very hard and efficiently with minimal disruption to our home. There was a supervisor (Gani) and Eduart was on-site part of the time – and he showed me all of the components that they had ready to install (vents…underlayment….etc.), and even went on the roof and took pictures of the work as it progressed. I certainly appreciated that attention to detail as I think he figured out that I was anxious to be sure that they were actually doing what they were supposed to be doing – and they were !
The job was almost finished in 1 day (gets dark early in November) so a couple of the crew returned the following day to finish up. Eduart also did an inspection and found a cracked plumbing stack – and they replaced that before leaving.
From the start to the finish of our roofing process it was a pleasure dealing with the Eclipse Roofing team. Rachael, their Administrative Specialist, provided excellent customer service, arranging for answers to my questions, scheduling the work and ongoing communication. The work crew (led by Gani) were very professional, worked very well together, and were courteous and respectful to us and our home. The roof looks great and the site was cleaned of all debris. Eduart provided great communication with us – answered our questions, was very knowledgeable, gave recommendations, but did not pressure us in any way.
Having a roof replaced properly is expensive, but my wife and I were extremely happy with the roofing job completed by Eclipse Roofing team – including their professionalism, efficiency, communication, and the results - and we 100% whole-heartedly recommend their services.
1 of 1 people found this review helpful.
Company Response

Good Morning Michael,

It was our pleasure to answer all of your questions and ensure that you received all of the details for you project. Our team enjoy assisting step by step throughout the process and knowing that you are comfortable moving forward with each component of the project. We are happy to see that we met all of your expectations and finished the project to your satisfaction. If you ever need us in the future, we would love to work with you again.

Best Wishes and a Happy New Year to you and your family!

The Eclipse Team