Drapery & Curtains review in Toronto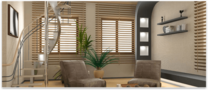 B.H. Blinds & Drapes Of Crazy Joe's Drapery
(905) 848-2181
Dundas Street East
Mississauga
ON
CANADA
I just wanted to share what a great experience it was in dealing with Crazy Joe - he was extremely prompt when I first called him, and even followed up and contacted me back on a Sunday.
While all other companies I called said it would take minimum three weeks to measure and install custom blinds, Joe and his team were able to finish in less Jan 10 days, from start to finish. The blinds he installed were very well done, and our tenant is equally as happy with them as myself.
I wholeheartedly recommend using Joe - he's very professional and good at what he does.
Sincerely,
Alex