Drapery & Curtains review in Mississauga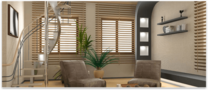 B.H. Blinds & Drapes Of Crazy Joe's Drapery
(905) 848-2181
Dundas Street East
Mississauga
ON
CANADA
Dealt with Joe himself - a personable guy who help me pick just the right drapes for my apartment, and only sold me what I actually needed. Highly recommended.
Reid B.
P.S. - He gave me an especially good price because I mentioned that I'd seen his reviews in Homestars.com.
1 of 1 people found this review helpful.