Drapery & Curtains review in Toronto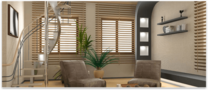 B.H. Blinds & Drapes of Crazy Joe's Drapery
(905) 848-2181
Dundas Street East
Mississauga
ON
CANADA
I apologize for the late review, as Joe and his staff have been exceptionally cordial and ironically they provided a quicker and faster installation service (within a week) then me writing this review (late by 2 months).
Our experience with Crazy Joe, was profoundly insightful and the final result is something my family has been raving about. When we walked into the store, we had no idea about the types of draperies and curtains fabric with fixtures that would best suit our house.
However, the advice given to us, coupled with understanding our predicament of a quick installation within a week; really made us appreciate Crazy Joe and his energetic staff and designer's patience of dealing with a tight deadline customer.
I personally would vouch for Crazy Joe and his team of dedicated staff; with anyone who are seeking an effective result to enhance their dream home with fabric curtains, rather than using bland vertical blinds.
Company Response

Thank you for shopping at B.H. Blinds & Drapes/Crazy Joes! Our new store is located at 3685 Bathurst St. and 401.