Moldings / Mouldings review in Toronto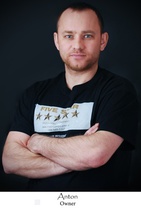 Five Star Moulding Company
647-927-9795
Anton and his crew just left hours ago. Yes, only hours, and I have never felt so compelled to write a review about any product or service I've had in my 14 years as a homeowner. Perfection.
Professional, polite, and clean crew. Very reasonable $. Will definitely use again.
I submitted a request last Sunday through Homestars to 10 moulding companies. Only two companies replied. One said it was booked till July. The other was 5 Stars! Irena from 5 Stars replied to me same day. Anton came on Thursday and job is done beautifully today on Friday by 5 pm!!! This is a company that wants your business, and put customers first, and does quality work.
We have one difficult corner, see attached, that a few "contractors" had looked at and had either no clue, or quoted me way more $$. Anton didn't blink twice and said no problem. He also gave suggestions to enhance the wow factor of the house (I'm selling). I'm thoroughly impressed, after having dealt with more than a few dishonest handymen and reno companies. Don't even consider other companies.
To other companies that didn't bother replying, this is what HomeStars is meant for. Answer your emails, call your prospects, show up on time and do a good job, and future business will come to your door.
1 of 1 people found this review helpful.
Company Response

Thank you for such a detailed review.
We try our best to ensure quality installation.
We play close attention to every detail and we source carefully from selected suppliers to ensure that all materials we use are of superior quality. Thank you again for noticing our hard work and we hope to hear for you in the near future.
Thank you.