Basement Renovation review in Newmarket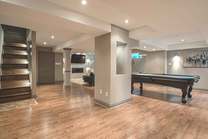 Agm Renovations
416-477-5429
25 Sheppard Ave W, Unit 300
ON
M2M6S6
CANADA
I have just finished paying my last installment on a wonderful job completed by AGM Basements. Not only did we have the basement renovation done by them, but we also had a separate entrance excavated to create a walkout basement.
All in all, I was extremely happy with this company. That is not to say there were not a few problems along the way. When you undertake a huge project which has a complicated structural component, you are bound to come across a few glitches. However, it is how a contractor handles these issues that speaks to their professionalism and integrity--and this company was stellar! For example, one of the subtrades hired by AGM created quite a mess on our project. Their poor workmanship and attitude was a shock to AGM who had not used them often in the past. Their work was not up to AGM's standards and AGM was embarrassed and extremely apologetic! AGM ended up having it redone immediately and without complaint (or extra charge). Many companies can provide good workmanship; but taking ownership of problems and remedying them for the homeowner shows, in my mind, the high level of customer satisfaction to which they adhere.
I will say that, despite my 100% satisfaction with the company, I was a little frustrated by the lack of communication at certain times. Although I ended up realizing that they had everything under control and were probably just too busy to reply to some of my texts and emails, I am an office person who is used to responding promptly to correspondence. I had never completed such a large project, and, in the beginning, when I would send emails and not get a response, my imagination had them running off to Bora Bora with my money and leaving me in the lurch! Lol. For example, I would occasionally text the project manager or designer to ask them when a tradesman was expected and would get no reply. Nevertheless, the next day at 8 AM the electrician was at my door. My point is that they were managing my project and the work was getting done, but I was not always kept in the loop to the full extent that my hand-holding personality needed! I am merely making this point so that others do not worry about this like I did. Rest assured, they are on top of it, but perhaps spread a little too thin to also be on top of all of their written communication.
Bottom line, at the end of the day, we have a gorgeous basement completed by a reliable and trustworthy company. I would definitely use them again and refer them with confidence.