Basement Renovation review in North York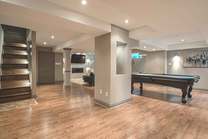 Agm Renovations
416-477-5429
25 Sheppard Ave W, Unit 300
ON
M2M6S6
CANADA
I had over a half dozen companies and independent contractors come to my place to give me a quote for my basement renovation (main area, a 3 piece washroom, room and storage area). My project ended recently on time and I have to say AGM fulfilled everything I required. The main advantage of working with AGM is everything is done with them from start to finish, from the concept; design, workmanship, and even final clean up.
The entire staff is extremely proficient and focus on customer service. I had a lot of questions at the start of the project, and was very involved in asking questions with every tradesman that I came across. Each and every person understood this and took the time to answer my questions both technically if I understood what they were doing, to breaking things down in plain language so that I could understand. They treated my house and time with respect and made it a point to check in with me or my family to ensure we were comfortable. Even with a lock box outside, they made it a point to ring the bell and knock before coming in, just in case I was still home when they arrived. It is a small thing to some people, but one of the many things that is appreciated when you are living thru a big project. The experience each person has is very evident. Everyone went out of their way to be courteous, efficient and transparent in what they do. Each person that came was skilled in the particular thing that they did.
My project was very complex, as I had a lot of big visions and an extremely tight budget. The entire team understood this and gave me excellent professional guidance as to where to spend my money and where to save. This was extremely helpful, and appreciated as now that the project is complete. I had some changes when the project was in full swing, and they were very clear on how much it would cost and what the benefit and opportunity of the change would be. Again, this is extremely appreciated and now that the project is done, I can see how everything they said made sense.
The materials used was as promised and far superior to builder grade materials. I personally researched and asked about materials being used prior to start and they lived up to that. The workmanship is excellent and of a very high standard. The project manager made sure he was available when I needed him. The designer was able to recognize when she came to my house the type of paint I used upstairs (just by looking at it) and gave me a suitable compliment to quality in my basement, which was very impressive. The salesman was knowledgeable, patient and detail oriented, often pointing out things which helped save money and make excellent use of the space. Ultimately from start to finish, everyone exceeded my expectations.
From a consumer point of view, my suggestion is to make sure to be available (by phone, email or in person) for the first few days of construction. As with any major project, a lot of little questions and opportunities come up. The employees want to make sure that you are satisfied with the project and want to get it right the first time. Making yourself available during that time will ensure that you avoid settling on anything. I am very happy that I had someone at home during the start of the project to answer all the questions (first 2 or 3 days). With that said, the company was very trust worthy and kept the work area clear of any debris to the best of their ability. They were also very quick to pick up any debris outside and did so several times during the project.
The entire team did everything to ensure that my project came in on time and with excellent quality. For peace of mind, everything is written in the contract, and they provide an excellent 2 year warrantee. Overall I had an positive experience with AGM and recommend them.
2 of 3 people found this review helpful.