Basement Renovation review in Milton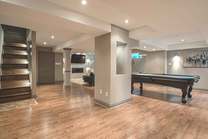 Agm Renovations
416-477-5429
25 Sheppard Ave W, Unit 300
ON
M2M6S6
CANADA
I have to take a moment to recognize AGM for the fantastic work they did in finishing our basement and for their professionalism and commitment throughout the process.
I am notoriously hard to please and by nature I am always skeptical that service providers can live up to their commitments. From the beginning I was certain that my basement would not be finished on time and that my costs would magically increase once work started.
To my complete shock I could not have been more wrong. The team at AGM met every milestone in our timeline, the price they quoted did not change and they actually finished the job early! From our interactions with the sales team, design center (a special call out to Alene who was just fantastic) to the onsite crew everyone was extremely responsive, qualified and focused on quality.
We could not be more happy with the results and I have not stopped talking to friends and neighbors about how pleased we have been with our entire experience! I would highly recommend AGM for anyone who is considering having their basement finished – there prices are competitive, their quality is exceptional and they run their business professionally by honoring commitments and ensuring that the homeowner is kept up to date on all aspects of the project!
3 of 4 people found this review helpful.