Basement Renovation review in Toronto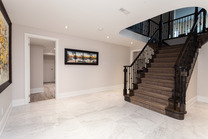 Penguin Basements
1-866-262-8298
906 Magnetic Drive
Toronto
ON
M3J 2C4
CANADA
I contracted with Penguin Basements for a total basement build out of approximately 2,000 square feet. Penguin really went above and beyond my expectations and it was a pleasure to work with the Penguin team. Ranging from Rick who helped us with our initial consultation and costs, Eric who showed incredible patience in guiding my wife and I with our design, Angelo who coordinated the start or construction and Fabio who managed the project from beginning to end the project was completed within budget. Penguin also managed the permit processes on my behalf as well!
Penguin's tradespeople are excellent, courteous and treated my home with respect. With a high attention to detail and great workmanship, I am very satisfied with the project's outcome. The project was completed in January 2019 and we are fully enjoying every aspect of our newly built basement.
Keep in mind that projects of this size are very complex, and the challenge is managing the multiple trades and issues that occur during construction. I can tell you that the Penguin team handled those challenges by communicating with me immediately to come to a resolution. When something went wrong, they were very quick in making it right. Penguin was also very flexible as well when we made minor modifications during the project.
Penguin Basements are not be the cheapest contractor in the market, but you really do get what you pay for, and if you wish to complete your basement with a minimal amount of headache with a great end result then I highly recommend them.
Company Response

Rob, thanks for the review. We appreciate it. Seems your are more informed than the average homeowner based on your expectations and observations, and tough score ;-) We're happy we were able to minimize typical renovation headaches (Oh, if only we could eliminate all of them.), and to hear your are happy with the finished product. We appreciate the recommendation, and hope that you get many years of satisfaction from your basement.