Basement Renovation review in Pickering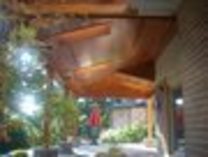 Remodel Construction Company
416-757-4107
Toronto
ON
M5R 2E2
CANADA
We brought in Chris and his team to transform our small basement powder room into a full 3pc washroom, as well as moving our W/D and creating a new room/nook for it. Chris was very helpful in the preliminary stage, helping us with figuring out optimal layout and design, including securing and closing all permits. A few things about Chris and his team: polite, timely, clean - and best of all - both transparent and responsive. Chris always made himself available to chat with us and truly provided an excellent experience. We have had to deal with other contractors in the past, and this was a breath of fresh air. There was never any lack of trust on our end. From a workmanship perspective, Remodel's work is excellent and while they perform their own quality control, Chris was always open to listening and responding to our last minute changes. We are extremely pleased with our basement renovation and would recommend (and have already) Remodel Construction to our friends and family!
Company Response

Hi Dan,

We are really glad to hear how pleased you are with the finished laundry room, area washroom and basement renovation. It really does look fantastic and the transformation from a practical sense is great.

From the design stage to preparing the drawings and obtaining the necessary building, plumbing and electrical permits we can facilitate all that for our clients and make it a simple process.

At Remodel Construction we pride ourselves on being able to provide exceptional customer service which includes making ourselves available to answer our clients questions, concerns and any requests to modify and change the scope of work during the renovation. We understand that clients want to be able to talk with their contractor and not have to wait hours or days for a response.

We try to make sure that our workmanship is completed to the highest standards posdible however we are always open to our clients suggestions, feedback, suggestions and input at any time. Being on time, leaving our job sites clean and tidy daily are just a standard part or running a safe and routine renovation project at Remodel Construction Co.

Thank you for your business. It was our please getting to know you and your wife and we look forward to working for you both again in the future.

All the best from Remodel Construction Co entire team and we hope that you get many years of use from your basement renovation.