Fences & Gates review in Toronto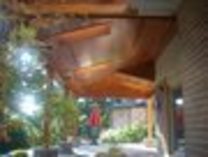 Remodel Construction Company
416-757-4107
Toronto
ON
M5R 2E2
CANADA
Chris and his team were very responsive to our needs for immediate work necessary to temporarily repair fence damage and then in providing a restored permanent fence. Their work was professional, cost effective and was a perfect solution to our situation. The team was very courteous and clean in carrying out their work. They delivered on all of their commitments as promised and we would have no hesitation using them again or recommending them to others.
Company Response

Hi David,

We understood that you needed to have your fence repaired quickly. We were able to provide you with a temorary fence until we could repair the fence properly a few month later. We always try to provide a cost effective solution to our clients. Thank you for your kind words about our team. We always leave our job sites tidy and clean at the end of every day. We are pleased to haer that you will recommend our company and I think that's how you found us was by a recommendation from another client of ours.

We will look forward to working with you again in the future.

Chris and all the crew at Remodel Construction.