Bathroom Renovation review in Pickering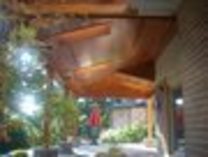 Remodel Construction Company
416-757-4107
Toronto
ON
M5R 2E2
CANADA
We converted our daughter's small, cramped, out-dated stand-up shower to a bath-tub.
Chris and his team from Remodel Construction were excellent. Communication was top notch and we were always kept in the loop regards to the progress and timelines.
The crew were extremely professional and a delight to work with. They kept the house very clean and cleaned up after themselves daily.
We are very happy with the work and final result. We are thrilled with the renovation. We would highly recommend them for any renovations. We will definitely use them again for other work we had planned in our house.
Company Response

Hi Joseph,

We are glad to hear that your really happy with the washroom renovation that we completed for you, it really transforms your washroom.

Communication with our clients before and during any renovation is key to the succes of any project. It helps you as the homeowner understand if the project is running on time and where we are in the process. It also helps us the contractor deal with any unforseen issues in a timely manor and also helps if we need to make any changes to the scope of the project.

We look forward to working with you again in the future and always like to hear that you would recommend our company.

Thank you for your business.

Chris and all the team at Remodel Construction Co.