Oakville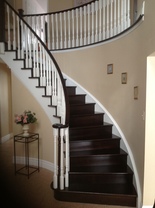 Ideal Stairs
416 613-1919
4800 Sheppard Ave. E. Unit 123
Toronto
ON
M1S 4N5
CANADA
We are in the midst of a significant renovation of a 3 storey s townhouse and we selected Ideal Stairs to undertake a complete updating of the full staircase from the basement to the third floor based on their HomeStars reviews and rating and the examples shown on their website. We had high expectations --- and they were exceeded! From our initial meeting in the showroom, to the site visit at our house and throughout the project Mesh's communication with us was exceptional. We always knew when his team would be there and what they would be doing. Our views were sought throughout regarding the quality of the work; from removal of the old railings, spindles and posts to sanding and staining of the treads, painting the risers and stringers to installation of the new posts, railings and spindles. And everything was done within the timelines he quoted, even though we had to ask Mesh to change the start date twice to accommodate our contractor.
At the conclusion of the project when we saw the completed staircase we could not have imagined a better result. It is simply spectacular. Our plan was to install a runner over the length of the staircase, mostly as a safety measure for grandkids running up and down the stairs, but now we are reluctant to cover up such excellent work!
Thank you Mesh and thank you to the craftsmen at Ideal Stairs.
Company Response

Hi Robert, thank you for your review. Your feedback is very important to us while we continue to offer our clients the best in service and workmanship. We are so happy to hear that you had a great experience with our company and we were able to exceed your expectations. On behalf of Mesh and the Ideal Stairs team, we would like to thank you for giving us the opportunity to be a part of your stair project. If you decide to install a runner, we hope you will continue to enjoy your lovely new stairs. Please kindly mention our name to any friends and family who need work completed for their stairs and or floors.