Roofing review in London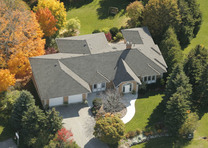 Am Group Of Companies
1-877-281-6900
207 Exeter Road
London
ON
N6L 1A4
CANADA
Update: Thanks for the response, but Jeff is well aware of this and was involved many times through the painful process. I don't appreciate the pre-canned response.
We were very disappointed with our service from AM Roofing. The team that came to install our new roof was very unprofessional. They worked until 9pm, and didn't clean up after the job. We had to wait three days until they returned to clean up. They left the job partially done. We had our eaves disconnected for 1 week and I had to clean up the nails so my kids weren't injured. I collected over 100 nails from the yard. Also cigarette butts, candy wrappers.
It took several return visits for everything to be done properly, which took two weeks, and no price concession was offered. I would not recommend AM roofing. A great sales job, bad follow through.
If you do choose this company ensure the people doing the job show up in AM roofing trucks, not a sub contractor. The difference was night and day when the logo was on the truck.
The pictures below were how the job was left as complete, and what we had to wait 2 weeks to be fixed.
Company Response

Hi Jeff, we are very sorry to hear you weren't satisfied with the job. Customer satisfaction is our priority! Can you please provide some additional information about your project by email so we can follow up and investigate further? Please email to jeffw@amgoc.ca.
Thank you