Mississauga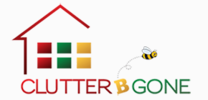 Clutter B Gone
905-642-5669
I am writing this review from my newly well organised office – where everything is in it's place & easily accessible. I would highly recommend ClutterBGone to anyone that is in need of de-cluttering a space.
After watching Varsha of ClutterBGone on a show on "Zoomer" TV, I decided it was time to use a professional service to de-clutter my office after my move to a condo. At my initial meeting with Varsha, I found her to be warm, understanding but most important her philosophy for the utilization of space & detail prompted me to use her company's services.
Karen, with Nicolle & Heloise were a pleasure to deal with – they listened to my needs & were very professional, patient, easy to deal with & helpful during the entire process of sorting my "stuff" & organising it for optimal use.. Many thanks to Varsha & the team for my new found space.
Company Response

Hi Phil,

Thank you for your wonderful review. It was a pleasure to meet and work with you to get your office into a space you are comfortable and happy with. We look forward to working with you in the future should you wish to continue with other spaces in your home.