Bathroom Renovation review in Toronto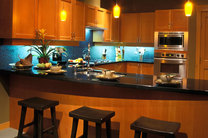 renoWOW!
4169370969
Toronto
ON
M5A 1S2
CANADA
This is my first Reno, I found Sam very knowledgeable and I didn't feel pressured into any thing . My son did the demo and found a problem with the shut off valves. The condo's plumbers took two weeks to fix it putting Sam and his team on hold. Sam and Jr got to work they answered any concerns I had. Even when I changed my mind on a few things Sam worked quickly to get changes done. I now have a beautiful bathroom with lots of extra storage. My home was cleaned up before they left with a grantee if I find any thing wrong they'll be back to fix it . I would highly recommend Renowow to anyone thinking of doing a Reno
Company Response

Thank You for taking the time to write this review! We love our clients and do whatever it takes to make them happy. I remain at your service.