Countertops review in Toronto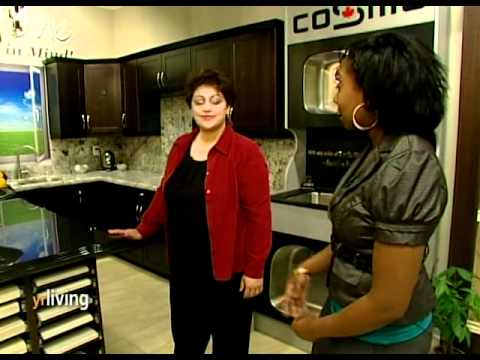 Marble Treasure Inc.
905-303-8007
1490 Major Mackenzie Drive, Unit D3
Vaughan
ON
L6A
CANADA
My wife and I had had a previous, very bad experience with third-rate fabricators and installers, so we were apprehensive about going through the whole counter-top process again. This time, I checked HomeStars first and found the company with the best rating and with a large number of reviews. What a night-and-day difference this experience was.
We began with Violetta in Vaughan at their sales location. She was extremely well organized, with hundreds of digital photos on her computer to show us of complete projects with various counter surfaces--natural stone and quartz. She steered us in the right direction based on the pictures we provided her of our own kitchen layout, cabinetry, and tile floors. She sent us to a handful of stone warehouses after we determined we were going with a natural stone. We picked the quartzite counter-top she had suggested, the one we also preferred above all others, and she ordered the slab. The sink she suggested was also very nice.
Next, Jerry made an appointment with us and came to our home and took measurements of our walls and cabinets (I had already removed the old counter-tops). Our home is old so our walls and cabinets are not at all perfect right angles or even straight. Jerry measured our walls and cabinets with a CNC machine (laser pen input) which he then saved to the connected USB and exported onto his laptop. He produced a professional document in about 40 minutes on which physical templates would be based.
Next, once the templates arrived, we met with Oleg at Marble Treasure's fabrication shop. He laid out the templates on the slab we had picked in the arrangement we chose. Oleg said we would have our counter-tops in 10 - 14 days.
Oleg and his team arrived 10 days later with all of the pieces precisely cut and book-matched. Surprisingly, they had managed to keep our L-shape counter-top as one piece (no joint!). We were not expecting that at all and are very happy that they went that extra mile for us. Even with our irregular walls, the pieces all fit precisely. Oleg and his two team members worked very quickly, building up our cabinets and installing each counter-top and waterfall (4 pieces total). Installation began at 9:15 am and ended at 11 am. All of the edges are chip-free and the corners are uniformly smoothed. The work is truly beautiful.
Overall, everything went very smoothly. The whole process took 20 days. Violetta was very knowledgeable, friendly, and helpful; Oleg and his team were consummate professionals. Their finished work is brilliant. Marble Treasure has earned its great reputation. We will certainly choose them again in the future.
Update: January 2017
Six months is a good time to give an update. The counter-tops are still looking fantastic. They are easy to clean and maintain. We are happy we went with quartzite--very durable and sharp looking. And we are still very happy that we chose Marble Treasure. I will give a final update at one year.
Company Response

Dear Shane
Thank you very so much for fantastic feedback! I am so happy we exceed all your expectations and everything went smooth for you! As I said we will do great job for you and we did it!
It was very please to deal with you guys, thank you for opportunity! I hope to get pictures in near future! Wish you very best and thank you again from all of us from Marble Treasure Inc