Windows & Doors Installation & Service review in Spruce Grove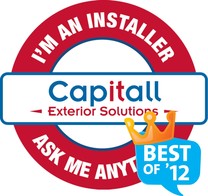 Capitall Exterior Solutions / Window And Door Clearance Centre
780 757 3930
11569- 149 Street
Spruce Grove
AB
T7X 2C5
CANADA
Several windows in our house needed to be replaced due to condensation problems in the winter. Capitall came in and gave us a very reasonable quote to replace all the windows and exterior doors. The windows were delivered and installed in a relatively short time and we have been happy with the windows for 2+ years now. The pièce de résistance is our front door which we love and always generates "oooh"s and "aaah"s by visitors.
We did have a few troubles, however. The first was that the guys that finished up the trim around the windows during the installation were a little sloppy. I'm not sure if they were Capitall guys are if they were subbed out, but there were several exposed nails, some things slightly mis-aligned and just generally not done as well as we would have liked. We pointed these things out to the Capitall team and there was really nothing they could do about it which was a little disappointing (hence the 4 out of 5 stars for satisfaction).
On the flip side, the install team has been very responsive as we have called a number of times for other relatively minor issues and they always show up with a smile and make whatever adjustments are necessary. They were just here a few weeks ago...2+ years after the final sale and install, so that is definitely great service!
Company Response

Hi Jeff. Thanks for the review. We really appreciate the comments and the feedback. In Response to your comments, the crew would have been our employees as we do not sub any work out. That being said, I am sorry to hear about the lack of care taken in the finishing of the windows. If there is anything we can do to make it right for you, please let me know and I will ensure we get it fixed for you to your satisfaction. Again, we really appreciate the feedback and comments.

Joe