Toronto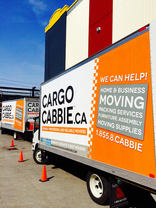 Cargo Cabbie
647-478-5422
105 Brockhouse Road
Etobicoke
ON
M8W 2W9
CANADA
Upon flying from NL to Toronto, to help our daughter move back to NL in January, we needed a company to help move items from a location on Bay Street , store household items for a short period of time, and then transfer to a moving truck headed to NL.
Thankfully, we found Cargo Cabbie! From my first conversations with Theresa, Kat, and then moving lead-Cameron, things were very professional and efficient. All information and costs involved was provided upfront.
In coordinating the move from storage to meet the transport headed to NL, the service received was exceptional and the transfer was completed in a very efficient manner. WE couldn't be more happy with Cargo Cabbies services as we were a family from out of province with hopes that we could find the right movers to coordinate and work with us. Great team and work ethic!!!!!! Highly recommended!!
1 of 1 people found this review helpful.
Company Response

Hi there,

Thank you for your kind words about Cargo Cabbie's moving and storage services! It was our pleasure to assist you with your daughter's move and ensure a stress-free and hassle-free experience. No matter how big or small the move, we'll always be happy to help you coordinate all the details and take care of your move from start to finish, so you can have peace of mind no matter where you're calling from. If you ever need packing, moving, or storage help again in the near future, don't hesitate to get in touch with us anytime! We'd love to hear from you again! Until then, all the best from Javier and the Cargo Cabbie team