Kitchen & Bathroom - Cabinets & Design review in Brampton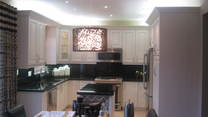 Dvkitchens
(905) 901-2214
2366 Wyecroft road unit D3
Oakville
ON
L6L
CANADA
After quoting from a few cabinet companies, we settled on DV kitchens for a few reasons. Most of the HomeStars highly-rated places wouldn't even bother to look at our project as it's apparently "too small and troublesome".
DV kitchens weren't the cheapest, nor most expensive, but exhibited the most amount of care and passion for what they do. They're up-front about why things cost the way they do, and were quite transparent about things like timelines or the brand of hardware they use.
Why I didn't give a full 10/10 in this review sort of stems from the fact that they're very busy. Things sometimes get missed, communications sometimes fall off to the side, and there is sometimes a bit of miscommunication in the back office which can require some gentle following up.
Daniel, the owner, patiently answered our questions and expertly translated the design we had in mind, into reality.
The installer came on time and was very diligent (barely ever took a break, I don't think he even ate the entire day), working well past 10PM on the last day.
All in all, we're very happy with the end result and plan on contacting Daniel again to see about getting some soft close hinges for our existing cabinets!
Company Response

Hello Jason,

Thank you so much for the kind and honest review. Here at DV Kitchens we are always trying our best to provide customers like you the best we can. I thank you for the constructive criticism, and this is definetly something we need to improve on. As our company continues to grow we must adequately learn to adapt in all areas, like in our internal communication as you said. We hope you enjoy our work for years to come, and certainly would love to be of service to you again in the future if possible.