Basement Renovation review in York Regional Municipality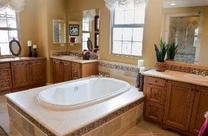 Kitchen and Bath Guys
416 562 2387
87 Thornmount Dr., Unit #24
Toronto
ON
M1B 5S5
CANADA
My wife and I are so glad we chose Vince and Anthony and their crew as our contractors. I don't think we could have made a better decision otherwise. They completed a 1000 sq. ft. basement renovation for us. In the end we got that beautiful high end basement we always wanted. The finishing is top notch and all our friends and neighbours have all commented on the excellent workmanship.
My wife is most happy about the fact that it was absolutely stress free and she had no worries throughout the process and no worries after. We're glad we had contractors that had our best interest at heart and steered us away from a situation that could have been problematic in the future.
All their crew and sub contractors they use are pros. They were all patient with us and did quality work. We're recommending Kitchen and Bath Guys to all our friends and family. We look forward to having them back in the future for our other renovation projects.