Kitchen Planning & Renovation review in Toronto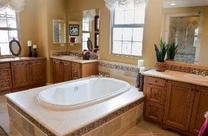 Kitchen and Bath Guys
416 562 2387
87 Thornmount Dr., Unit #24
Toronto
ON
M1B 5S5
CANADA
We recently worked with Vince and Anthony to complete a renovation of the main floor of our house. This included a complete gut of the kitchen, new floors, a custom entertainment unit, new staircases with glass railings and a 18' sliding door that opens up to our back porch.
We are extremely satisfied with the work completed as well as the services provided by Vince and Anthony. They are a great team and working with them was a pleasure as they were very responsive to all of our questions along the way. They brought in the right partners (Binns) who designed a beautiful layout and were always available for anything we needed. Special recognition is deserved for Adam. His enthusiasm and positive demeanour was always evident and his professionalism gave us the confidence that things were going to get done with quality (which they were). He went above and beyond on many occasions and we are very grateful that he was involved in our project.
The project was completed on time and within budget. Any bumps along the road (there were a few small ones) were dealt with full transparency and with options for us to choose from. Vince and Anthony were patient advisers who always ensured that we were comfortable in making a decision that was right for us.
My family and I are thrilled with the new look to our home and we would definitely recommend Kitchen & Bath guys. My hope is we will be doing more work with them soon as this experience gave us the confidence and the ambition to take on additional projects in the future.
Thank you Vince. Thank you Anthony. Appreciate all of your efforts in making our vision become a reality.