Home Inspection review in Aurora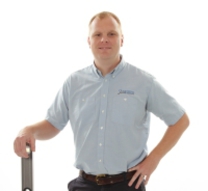 Clarified Home Inspections
(905) 505-0240
101 Woodbury Cres
Newmarket
ON
L3X 2T3
CANADA
I am going to try to be as balanced as I can here, and I have made these comments to Shawn by phone.
On the positive side, Shawn was great to deal with, very personable, arrived before we did and was already on the roof when we got there.
The walk through was thorough overall, and the report was easy to read with lots of pictures and tips.
Where things went offside was when Shawn was reluctant to open the access panel to the jacuzzi tub as he was concerned about damaging the paint. Our agent and I weren't willing to give him permission to proceed, so it was left unopened.
Subsequent to moving in, and using the tub, we found water had leaked (we could see this from the ceiling immediately below). In order to attempt to assess the situation, I decided to open the access panel and found it came off with very gentle pressure. Once open, mold was easily seen and we immediately called someone to assist us.
Their assessment was that the issue had been ongoing for sometime, and they could see not just mold but what appeared to be fungus.
We had intended to replace the tub with a walk-in shower, which I did tell Shawn, but this forced us to have to do so much sooner than anticipated, and added approximately $1,000 of costs to remediate the issue.
Ultimately my issue is the failure of imagination on Shawn's part - whether we were going to replace the tub or not is irrelevant. As my wife said, he should have suggested we seek permission from the seller or the seller's agent to open the panel rather than balk at the risk of damaging the paint. I am not the home inspector, he is, and I shouldn't be expected to know what's important to look at.
I will note that these comments have the benefit of hindsight, but considering that water is one of the worst enemies of a home, I don't feel they are unreasonable.
Company Response

Hi Grant, I am sorry to hear that you had problems with water leakage around your bathtub after taking possession of the house.
The home inspection process is, of course, an exercise in risk reduction, however it cannot eliminate all risk of future problems, as many areas of the house are obscured, concealed or otherwise inaccessible to the inspector.

As you had mentioned, the stuck access hatch under the bathtub was not opened during the inspection due my assessment, based on previous experiences in similar situations, that trying to do so could cause damage to the drywall or wall paint. As neither you, your real estate agent or I own the house, we do not have permission to undertake a potentially damaging activity. Any inspection damage caused to the Seller's home would have been at my cost to fix. As a guest in someone else's home I must often make judgement calls about what risks to the property are warranted to investigate concealed or difficult to reach areas based on other visual clues, symptoms and potential for problems.

At the time of the inspection, the bathtub & tiled shower enclosure in that bathroom showed no significant deterioration. Visual examination, thermal imaging and moisture measurements taken on the 1st floor ceiling below the bathroom showed no active water leakage and no staining or discoloration which would have indicated a history of problems.

As you mentioned, at the time of the inspection, you had indicated that you were planning a near-term complete reno of that bathroom to meet your family's needs and this further mitigated the need of taking the risk of damage to remove the wall panel to look under a tub which was coming out anyway. I did not anticipate any problems which would significantly affect your reno given the lack of other symptoms.

When we spoke on the phone, I wish you had taken me up on my offer of coming back to the house to evaluate the condition under the tub after you had taken possession of the house. I may have been able to offer you some practical short-term solutions to extend the life the current installation. These solutions may have better suited your desired reno timeline, as compared to the advice provided by a renovation contractor.

Again, I am sorry to hear you had a problem and I understand your frustration and review.

If I can help with any questions about the house in the future, please do not hesitate to contact me.

Shawn