Landscape Contractors & Designers review in Burlington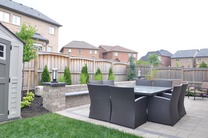 Burl Oak Landscaping
905 399 7934
Project – Complete back yard and side yard renovation consisting of re-grade of entire property, over 2200 sq. ft. interlock patio behind house, around pool and fire pit area, Prescott gas fire pit, stone pool coping, Prescott water feature wall with two sheer decent LED waterfalls and two large diving rocks, over 14 tons of armour stone walls and garden borders, multilevel retaining walls, large stone slab stairway, and complete re-sod of property.
Refer to pictures! All this was completed with a 12 man crew in 8.5 days! This is a large property with a large magnitude scope of work – not a typical small back yard reno. Property is also multi-tiered with a hill at the side of the house with a large pool and property backs onto a ravine.
I will start by saying Burl-Oak Landscaping made my 4 year dream design come true. They were an unknown entity to me. I found them on-line and gave them a call. I started with Mark Shessel and worked with him for a month or more on my project details and multiple iterations of the quote per my design and BOL's suggested improvements. Mark was extremely professional and responsive and such a nice guy to deal with. He provided detail and was very thorough and provided everything in writing in a professional quote and contract so that there was no potential for any misunderstandings later when the project began. Mark is very dedicated and communicates day and night and follows up on all items and leaves no loose ends. He spent a lot of time with me on my property and offsite selecting materials.
Prior to the actual construction began, the owner Louay (also a great guy) and his entire crew came to the property with Mark and even his office employee Beth, to meet me and review the project scope with me. Their crew of 12 (Michael, Winston, Tony, Caesar, etc...) were all great guys, professional, and an absolute pleasure to deal with. I will summarize the people by saying they all take pride in their high quality work and they are extremely hard working like none I've seen before. I need to add that I am a hard worker myself, have high standards, and I admit I am very particular and expect high quality end results and respect those who do as they say and say as they do. Having said that, BOL had no issues delivering on all of the above without my influence! I was pleasantly surprised and relieved. There were no communication issues or problems with any one person for the entire project. That in itself is impressive given a project of this magnitude can be stressful. Louay relieved any of my concerns prior to the start of the project with his confidence and experience on being able to get the entire job done in a quality fashion. I was skeptical and cautious at first to be honest, but shortly after beginning, all my concerns were alleviated when I saw Louay and his crew in action.
They started on the day they had promised and finished earlier than I had expected. They arrived every day early and left late every day and also worked through the weekend. They always checked with me along the way to ensure each detail was constructed as we had agreed or suggested alternatives if they had better construction or design ideas. Everything they did was accurate and high quality. There were no short cuts nor were there any extras costs (except extras I asked for) at the end of the project when it came time to pay the balance. They left the property looking incredible and ready for garden beds.
What more can a customer want!
I will continue to recommend Burl-Oak Landscaping and I will have them back for additional projects.
Thank you Louay, Mark, and your entire crew for making dreams come true.
Tony
1 of 1 people found this review helpful.
Company Response

Wow. Thanks so much for this review. We loved working on your project and live the photos of the finished project even more. We're just waiting now for the invite to the BBQ of the century. So happy we made it all work out for you andnplease dont hesitate to call us for anything.