Landscape Contractors & Designers review in Burlington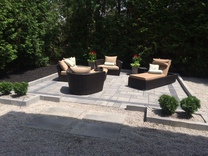 Extreme Landscape Group
905-332-4131
1160 Blair Rd
ON
L7L6Y6
CANADA
Our front and backyard had been neglected for many years and we required an extreme makeover quickly to make room for a shed and hot tub that we wanted installed before the winter.
We hired Rick and his team to help and within just a few days our backyard was unrecognizable after they removed several mature trees, deep rooted stumps, an old stone patio with steps and dying lawn. In its place, we had a perfectly levelled large modern patio ready to receive our new tub and a new stylish front patio walkway and steps. Finally, Rick and the guys assembled our 8.5 x 11 Keter shed on the last day on the job.
We are thrilled with our new backyard and would not hesitate to recommend Rick to anyone looking for landscaping renovations. We can't wait to hire him again next year to complete garden landscaping throughout the property.
Company Response

Hi Rob, I am glad you like the design, the front and back yard look amazing. By moving the gardens around we had space to add a hot tub and shed. The back yard is some much more functional. I can't wait to finish the gardens in the front and back yard and add lighting, it's going to look like a oasis. Thanks so much for trusting me.