General Contractors review in Toronto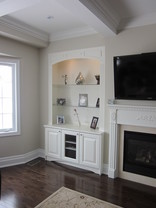 Ionia Renovations & General Contracting
416-676-9343
Melrose Avenue
King City
ON
L7B
CANADA
We did a fairly large renovation with Ionia – finishing the basement with a second suite, and complete demo/reconfig of our third floor including adding a master ensuite and second bedroom. Mike and his team did a wonderful job and were great to work with throughout the process. Mike is always responsive, every time I called he either answered or called back immediately, which has not always been the case with other contractors we've worked with – he was also onsite personally almost every day and did regular walkthroughs showing progress and checking that everything was to our satisfaction. He listened to our input and was really responsive and supportive when we had suggestions or wanted to make changes. We were picky about materials, in some cases having to wait for special orders, but Mike was able to make adjustments that still brought us to end of project on the original scheduled date. In terms of budget, it was clearly defined from the beginning and the only overages were due to our own choices (adding items not in original scope, etc). Everything was transparent and communicated clearly. We weren't sure of the best layout for the basement, and Mike came up with ideas, then spent time making computer plans of the options so we could make the best decision. We lived in the house throughout the renovation, and the team and all subtrades were always conscientious and tried to minimize the disruption to us to the best of their ability. We're really happy with the finished product and would not hesitate to recommend Ionia to family and friends. Thanks Mike and team!
1 of 1 people found this review helpful.
Company Response

Hi Todd, Thank you for your kind review. I am very happy with how your project turned out. There are always so many details and decisions to be made that it can sometimes be overwhelming. We worked very well as a client/contractor team to piece everything just perfectly and satisfy every need you guys desired. Efficient and effective communication is critical in managing any project successfully. I am very thankful that you put your trust in me and allowed me to deliver a high quality product to suit your every need. I look forward to working with you guys again. To your continued success, Mike.