Basement Renovation review in King City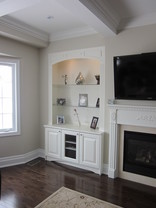 Ionia Renovations & General Contracting
416-676-9343
Melrose Avenue
King City
ON
L7B
CANADA
We contacted three different companies to quote our basement renovation. While all the quotes were competitive, we got the best feeling about Mike and his team. Mike, Andre, and all of the subcontractors were professional and incredibly nice.
We planned a layout for our small and unfinished basement which included a laundry room, family room, bathroom, and bedroom and they were able to build it beyond our expectations. It is now incredibly functional and we are able to utilize every bit of space.
Mike had no problem coming back after the project was done to do some touch ups. Followup was very important to him and he wanted to ensure that everything was perfect. They were able to work based on our timeline and work with our budget. I was really impressed with how he was able to see our vision and create something even beyond what we imagined.
We would highly recommend using Ionia Renovations and will use Mike and his team in the future if we have any other projects in need of a renovation.
Company Response

Thank you for your review. It was a pleasure to be of service and watch the incredible transformation unfold. The layout and use of space is perfect. I was extremely pleased with the step down shower base we customized to gain about 4 inches of headroom. It made a tremendous difference in the functionality of the bathroom. You guys are great and have a wonderful family. I wish you many years of enjoyment in your home and your newly transformed basement space. Sincerest gratitude, Mike