Windows & Doors Installation & Service review in EAST YORK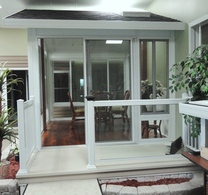 Pl Windows & Doors
416 503 0188
235 Norseman Street
Toronto
ON
M8Z 2R5
CANADA
Fairly certain my basement windows on my 70+ year old bungalow were original. Same with the front door which looked like it belonged to a dungeon. Had four quotes from different contractors to supply and install six double-sliders and a steel insulated prehung exterior door (all Gentek brand). PL's quote was quite reasonable with two other contractors asking for 30-35% more. Because I had ordered a custom paint job on my door it took about eight weeks to be delivered to their warehouse - the custom windows were in before six.
The basement window rough openings were rounded at the top. Noel (the installer) expertly cut some aluminum to match and caulked it such that you'd never know there was a big gap there. The rough opening for the door was indeed rough due to the decorative stone facing and no door buck. Noel added some wood trim to cover up the exposed areas and caulked it up nicely.
Lisa promptly returned email inquiries with a phone call and the installer called at the end of the work day to provide a status update.
When I am ready to replace my bay window I will be calling PL Windows and Doors.