Aurora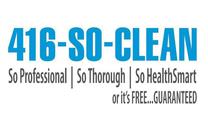 416 So Clean
(416) 762-5326
4057 Chesswood Dr.
Toronto
ON
M3J 2R8
CANADA
This company came back to my house on several occasions to tackle very stubborn pets stains that would not come out of my carpet. They took on the challenge without telling me that my expectations were a bit on the high side ( and I believe they were ) . The results certainly weren't perfect however the effort was tremendous.
Thanks for all you hard work!
1 of 1 people found this review helpful.
Company Response

Thank you so much for the amazing review, feedback and thank you so much for the business. We are so glad to be of a service and we look forward serving you again in the future. Yours, Adel Majd and the 416-SO-CLEAN Team